Profile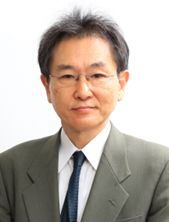 Atsushi Shibata (Mr) LL.M.
Head partner, Tax Attorney & Accountant
Certified Customs Specialist,
Correspondent in Japan of the magazine "VAT Monitor" in Europe
JETRO (Japan External Trade Organization) adviser of International Trade
Administrative lawyer
CONTACT DETAIL:​
3F Kioicho435 Building, Kojimachi 4-3-5, Chiyoda-ku,
Tokyo 102-0083 Japan TEL: 81-3-3264-5271, FAX: 81-3-3264-5273,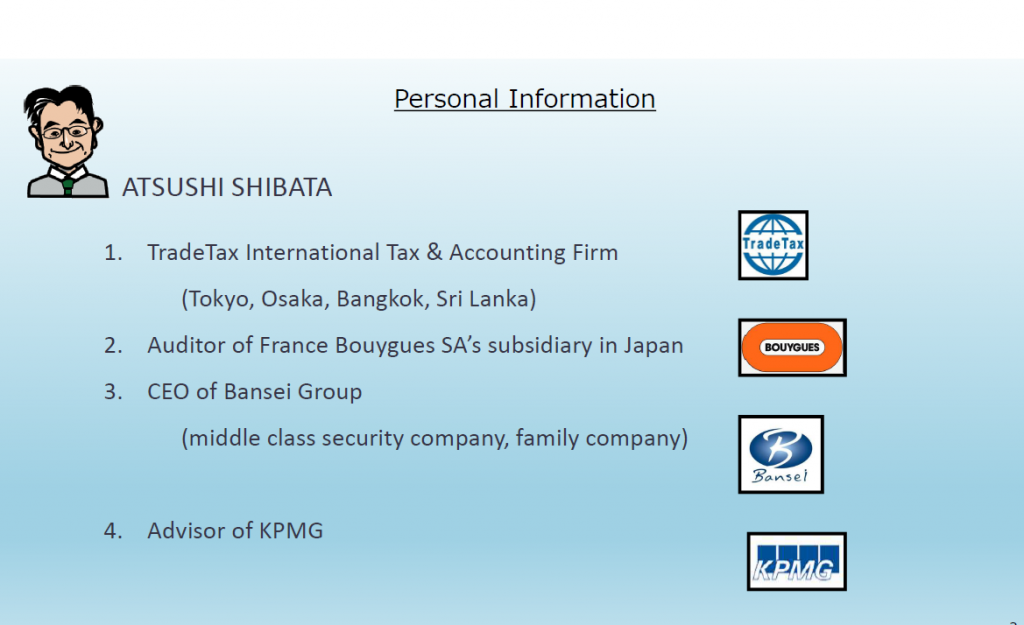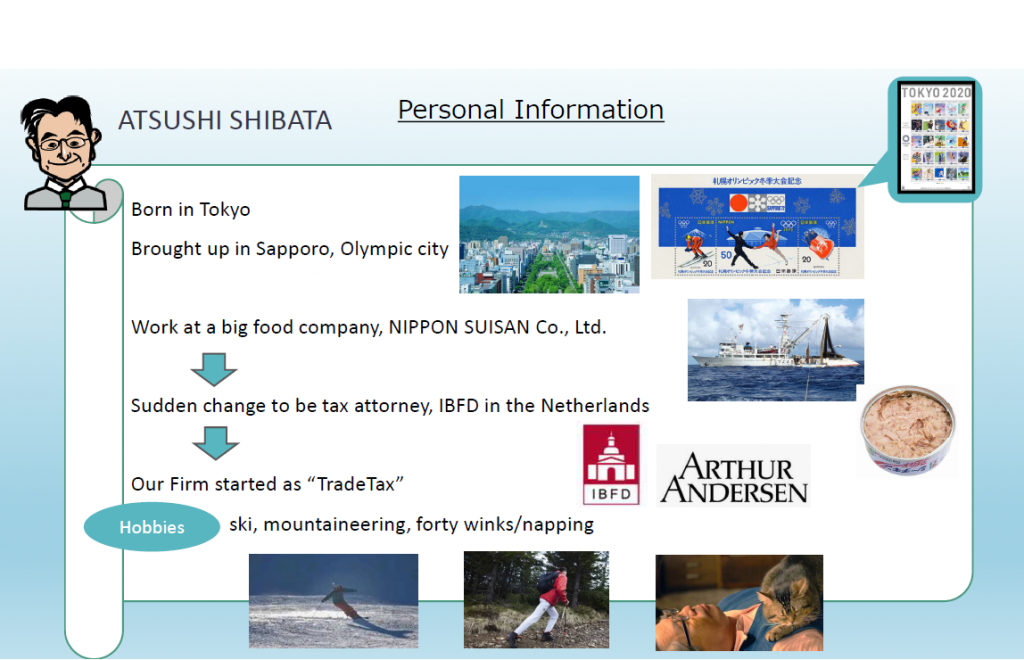 1. BUSINESS CAREER:
Former KPMG Japan and Andersen Japan (Corporate tax, International taxation, Indirect tax, Trade & Customs, Logistics, Transfer pricing)
Former research fellow of IBFD=International Bureau of Fiscal Documentation in Amsterdam in the Netherlands http://www.ibfd.org/About-IBFD
Former NIPPON SUISAN KAISHA, Ltd. World's leading marine food products company, including medical and pharmaceutical products
http://www.nissui.co.jp/english/index.html
2. ACADEMIC BACKGROUND
Waseda Graduate School of Finance, Accounting & Law, MBA
University of Oxford, UK, Green-Templeton College (Graduate School of Management AMP),
Radboud University Nijmegen Netherlands, EU Business Law LLM
Yokohama National University, Graduate School of Business Law LLM
Waseda University, Civil Law
​
3. BIOGRAPHY AND THESES
International Inheritance Law (2019)
Correspondent of "VAT Monitor Monthly Magazine" being published in Europe
"European VAT Law" by a publishing company Chuo Keizai(2014)
"Q&A of International Taxation" by a publishing company Gyosei(2010)
"Foreign Investment Strategy of Japanese company" by a publishing company Chikura(2010) Legal Strategy on foreign subsidiaries
Foreign Currency Transactions and Tax Deferrals
Taxation of PEs in the European Union and in Japan ​
4. OTHERS
My professors
Tax Law: Hiroshi Kaneko, professor emeritus of Tokyo university, awarded the Order of Cultural Merit in 2018
International Tax Law: Hubert Hamaekers, former professor of Radboud University Nijmegen Netherlands, former chairman of OECD multinational enterprises committee.
Interview with Mr. Shibata, Head partner
We interviewed Mr. Shibata, Head partner about the firm and himself.
Specialized in international taxation, trade & customs and international business
TradeTax International Tax & Accounting Office, with offices in Tokyo and Osaka, have specialized in Trade (trade & customs, Japan/Asia Investment and business). With the Asian economy in the spotlight, we provide tax and business support to foreign companies using Japan, Singapore, Hong Kong China as their Asian hubs.
In addition to regular accounting and tax services, we also provide support for companies considering listing on the stock exchanges of Tokyo, Nagoya, Sapporo, and Fukuoka in Japan. TradeTax is a member of the Bansei Securities Group, and our new job is to connect finance and real demand such as international transactions.
Reorganization through base transfers within Asia, successful exits, and security trade control compliance linked to Europe and the U.S. are also emerging in new business areas.
Extensive business experience and network
For business owners who are considering investing in Japan/Asia business
Japan/Asia is difficult to understand, with a different language and culture from the West. Expatriates of foreign companies in Japan tell us that they have no idea about taxes and laws, and they do not know where to ask for help. Ask us. We will support you with attentive, kind and careful support.
Many foreign companies used Singapore or Hong Kong as their Asian base, but people are not aware that it is also advantageous to invest in Asia from Japan. Japan has a well-developed insurance system that covers the risk of investment in Asia by Japanese subsidiaries. In addition, in principle, dividends received in return for investments in Asia are not taxed. The corporate tax rate is 15% for income up to 8 million yen, which is comparable to Singapore. Workers are diligent and willing to work hard for their jobs.
What kind of office is it?
Centered in Tokyo and Osaka, we have overseas partners (Europe, USA, China, Southeast Asia, Taiwan, Singapore, Hong Kong, etc.), so we can work with your company overseas. We will consider investments in Japan and Asia to maximize the after-tax cash flow of your group as a whole.
We are good at efficiently separating commercial and logistics flows to reduce corporate tax and customs duties, consumption tax and VAT, and flexibly changing commercial and distribution bases. And we will do that compliance.
Our Osaka office is as strong as the Big 4 accounting firms in Japan-U.S. tax collaboration. We connect Japan-U.S. taxation and work with Japan/Asia investment.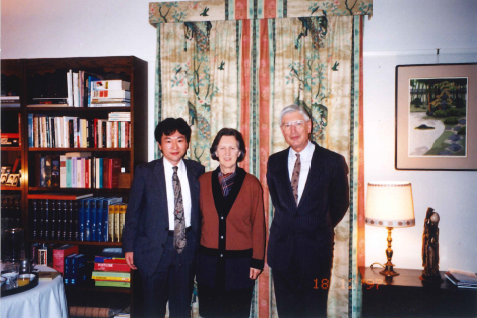 Please tell us about your background.
I was a businessman for a large food company called Nippon Suisan. The fishing base was in the North Pacific and Indian Ocean, and the manufacturing base moved from Japan to Korea, Thailand, and the Philippines. Sales areas are Japan, Europe and the United States. I was in charge of international supply chain and international base relocation, which is the origin of my current job.
My professor was Mr. Hiroshi Kaneko, a great expert in tax law in Japan. I set a goal of becoming a top-class international tax expert. After that, I worked at IBFD, an international tax research institute in the Netherlands, where the CEO of IBFD was Dr. Hubert Hamaekers, former chairman of the Multinational Enterprises Committee of the OECD and he was a leading expert in international taxation. I then worked for Arthur Andersen KPMG before I have my own firm. I value the group of domestic and international experts I got to know during my time at IBFD, Arthur Andersen and KPMG, and we are developing our business together.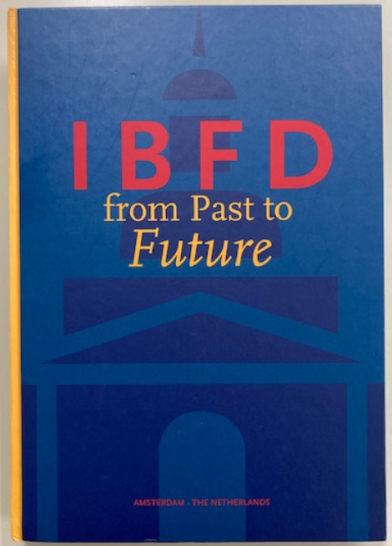 What is important to you?
Tax law is a double-edged blade. We have a duty to pay taxes. However, if the obligation to pay taxes goes too far, it can be used endlessly for inefficient public services or for war. Human beings are both beautiful and ugly. Tax law is a study that strikes a balance between the two. If it is not used well in people's lives, the world will become a strange place. It is very important to have a good knowledge of "principle of no taxation without law" and other laws, as well as the philosophy behind them.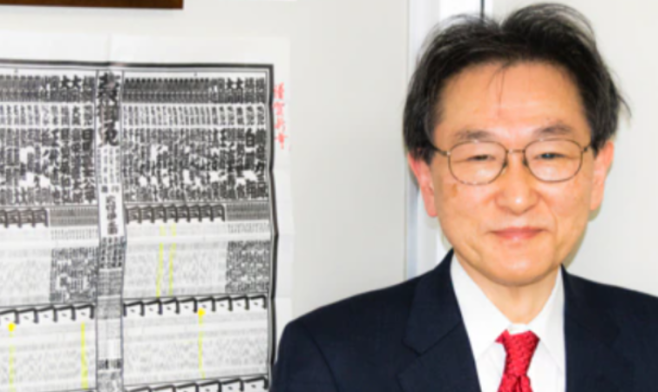 Atsushi Shibata (Mr.) , Head partner
Tax Attorney, certified Customs Specialist,
AIBA trade advisor (formerly JETRO certified trade advisor)
<Profile>
Hobbies: Mountain climbing, skiing, traveling, reading
Languages: English, French
Graduate schools of Yokohama National University and Waseda University,
The Netherlands Radboud University Graduate School (EU Law School Pallas Consortium),
Oxford University, Green-Templeton College UK AMP,
LLM, MBA
After working for Nippon Suisan, IBFD Netherlands and Arthur Andersen KPMG,
established TradeTax International Tax & Accounting firm in Tokyo/Osaka